Nexd and MOAT partnership
New Partnership with MOAT to Provide Unique and Transparent Third Party Verification on Ad Metrics
Would you like to be certain that your online ads are making serving impressions in front of actual human beings instead of bots?
Wouldn't it be great if you could determine whether or not your ads are having an impact on your target audience?
If the answer to either of those questions is yes, then MOAT is something for you.
Previously, MOAT has been available to measure media performance only across Instream formats such as VAST, VPAID, CTV.
Nexd and MOAT have now joined forces to exclusively offer access to analytics data for both outstream and instream creative solutions. We know that verification on campaign analytics is important and requested by your clients. Now, with MOAT integration, we can ensure the exclusive extra verification you have been looking for.
The cooperation with Nexd gives the opportunity to offer a wider range of media performance tracking than ever before, now also including outstream video formats.
What do we mean by Instream and Outstream?
Instream = Video ad placements in Inside Stream Mediums (VAST/ VPAID/ CTV)

Outstream = All other display ad formats, both image and video, that are not targeted inside video players (Infeed, Interstitial, Interscroller)
To start using this feature, please reach out to [email protected]
After setting it up you can easily enable MOAT trackers for the wished creative directly from the Nexd Campaign Manager platform. As shown below, just tick the "Moat Tracking" box, and you are ready to go!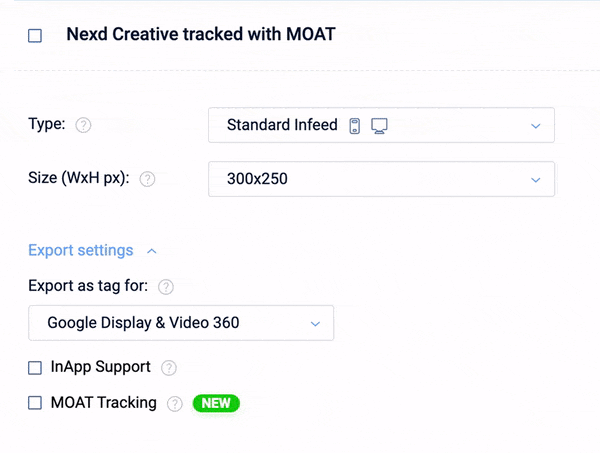 No MOAT account is required, and Nexd will handle all the paperwork. An additional small fee for MOAT tracking will automatically be added to your Nexd invoice. Did we mention that MOAT is worth the investment if you and your clients rely heavily on online advertising? The best part is that by using MOAT directly through Nexd you can keep your costs down and save time!
If you already have a MOAT account, the data will become visible alongside the rest of your account.

Oracle MOAT is an ad measurement and marketing analytics suite designed to help advertisers, publishers, and platforms measure media performance across the breadth of their digital and TV advertising campaigns.
For any questions or if you need help with enabling MOAT, please reach out to us: [email protected]