We keep advertising simple so you can be more efficient
Free for 30 days!
First 100% sustainable ad server
Deliver your ads in a sustainable and green way across the world without any extra charges.
Extend your reach via programmatic
Creative solutions made for programmatic usage for all mediums and platforms.
Creative ad production all in one place
Build, manage, and publish on all major ad platforms.
Light as a feather
Uniquely, we build in WebGL for lighter, smoother ads on all devices instead of bulky HTML5. You'll never have to worry about load rates again
Data you can seriously trust
Get peace of mind and data you can trust thanks to NEXD's robust and rigorously monitored analytics infrastructure.
Amaze your audience
Take your old static banners and quickly create ex-static banners, because rich media banners get higher engagement. No special skills or coding required
Welcome to a new era of digital advertising
Your audience is tired of seeing lackluster and uninspiring ads. Digital advertising is long overdue for major innovation, and so we did something about it. We've built a creative ad builder for programmatic advertising platforms so you can engage with your audience wherever they are, on any device.
Awe-inspiring visuals
We built our platform using video game technology, so your interactive ads move smoothly and load quickly.
Better on budgets
Our ad files are small because of WebGL, so they avoid the hefty premium you pay with bulky HTML5 files. More of your budget goes to delivering ads that are seen by your audience.
Works everywhere
Painlessly traffic your ads on all major ad platforms thanks to our portable, tag-based publishing. You'll be able to accurately track impressions and your ads' effectiveness.
Best user experience
Google's Core Web Vitals are recommendations that Nexd has supported from the start. Our core technology is based on a different processing unit so that we can keep the performance for the publisher delivering the content.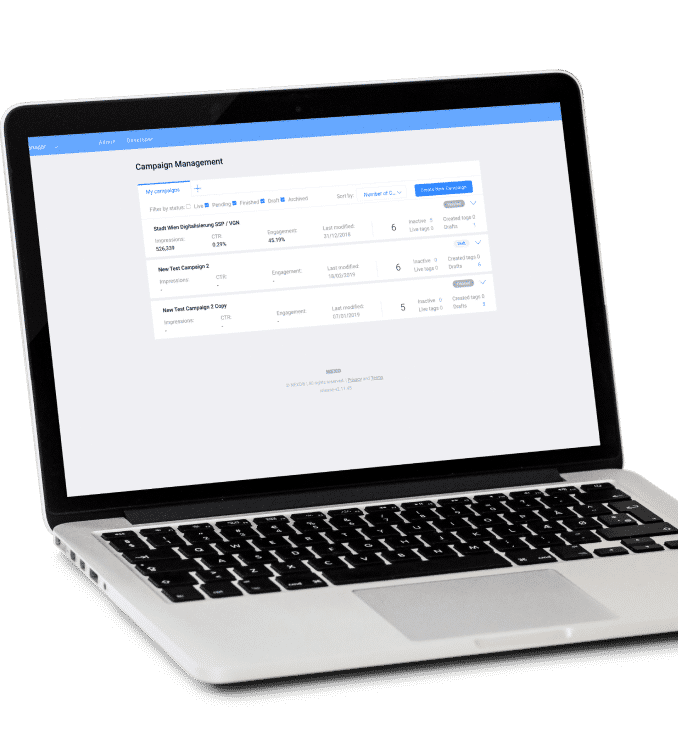 IT'S ALL IN THE TOOLKIT
Campaign Manager
Interactive ads in 5 minutes, without a single line of code
Nexd's Campaign Manager platform simplifies and speeds up the ad process without sacrificing any of the creativity today's audience demands. Build rich media ad campaigns in minutes with intuitive drag-and-drop tools.









Take their
word for it
We can keep talking about the benefits of Nexd,
but nobody says it better than our partners.
Try it yourself
On average, we have documented a CTR uplift of more than 250% compared to the static and GIF display formats we used before

The best client service together with experience and knowledge - that's what Nexd delivers

Nexd enables mediasmart to focus on delivering for our advertisers the best the industry has to offer, without compromising the advertiser experience Nexd offers (SaaS-based) ads that deliver up to 10 times better click rate and engagement while being around a tenth of the size of any other solution on the market
MobileMarketing
Nexd has built a rich media-focused ad framework — NEXD Engine — that is faster, lighter and allows for more creativity than HTML5
MobileMarketing
Have questions? Want to talk?
News and Insights
What's new at Nexd