What's the difference between Google Ads and Google Ad Manager?
In mid-2018 Google made some changes to the names of their core ad products. So, what's changed, what's new and why did Google even change it in the first place?
Two decades. That's how long the AdWords and DoubleClick brands were around before Google gave them the chop in summer 2018. Well, 18 years for AdWords and 22 years in the case of DoubleClick. These brands made up a huge part of Google's product lineup and, well, the digital advertising landscape as a whole.
But, that landscape has changed a lot over the last twenty years, leading Google to reorganize their ad products and bring them up to speed with the requirements of today.
So, where are we now? Here's a quick summary of what's become of DFP, AdWords and the other Google ad products:
Google AdWords became Google Ads
DoubleClick for Publishers and DoubleClick Ad Exchange were bundled into a new platform, called Google Ad Manager
DoubleClick advertiser, products (such as DoubleClick Bid Manager) and Google Analytics 360 Suite all got rolled in the new Google Marketing Platform
Following so far? Great.
Since Google unveiled these new product names, the most common source of confusion, both here at NEXD and among our partners has been differentiating between Google Ads and Google Ad Manager.
Probably the easiest way to figure out which is which: if you're a Publisher, you're probably interested in Google Ad Manager. If, on the other hand, you're an Advertiser, you're likely more interested in Google Ads.
That by no means covers every application, of course.
But to help you understand a little bit more comprehensively why these names changed, and what's under the hood, we've broken them down into the three core products.
Google Ads

When AdWords started life, back in 2000, it was exclusively a platform for running text ads on Desktop Search. Larry Page, co-founder and CEO of Google, described AdWords as having "the most technologically advanced features available". For the first time, advertisers were able to quickly build and execute online marketing efforts that were easily measurable and met their goals and budget. Google AdWords eventually became Google's main source of revenue, contributing to Google's total ad revenue of US$95.4 billion in 2017.
Spin forward a couple of decades, and not only has AdWords changed but so has the entire online marketing ecosystem. Initially, the platform name was a pretty accurate descriptor of what the thing did. You use words to make ads. AdWords. Simple.
Over time more and more features and formats were added to the AdWords product – text, shopping, display, video, app install. And all of these formats appeared in a range of products, beyond Search. YouTube, Gmail, Maps and a vast network of partner sites and apps. Millions of advertisers, from SME's to global agencies, spent billions on the platform every year.
Quite simply, the AdWords name didn't fit anymore.
In an interview with Search Engine Land, Google's Head of Product, Sridhar Ramaswamy, laid it out pretty nicely:
"With Google Ads as opposed to Google AdWords, it is moving the imperceptible default opinion that you get as an advertiser when you hear 'Google AdWords' … you think, 'Oh, Words. Search.' It's basically a slight cognitive dissonance to all the other great things that we are doing in terms of both the format and surfaces these ads can show. And so, Google Ads, in our opinion, is a much more straightforward representation of what Google advertising can provide. It's that simplicity and alignment of the core message from the first instant you hear the name, which is the goal."
Making things clear and understandable is good for business. From personal experience, the old AdWords interface and many of its features were somewhat challenging to get to grips with at the beginning. Not a good thing, particularly if Google wants to continue growing its small business offering.
Now, with a new name, new UI and features like Smart Campaigns for small businesses, Google has their eye very much on the SMB sector with Google Ads.
Google Ad Manager

Where Google Ads is advertiser focused, Google Ad Manager caters to the Publisher end of the online advertising ecosystem.
But before we dive into what Google Ad Manager does, it's important to look at how we got here. And we can't do that without talking about DoubleClick. So, here's a quick history lesson.
All the way back in 1995, Kevin O'Connor and Dwight Merriman, put together a concept for DoubleClick in O'Connor's basement. They created a system to display banner ads across a network of websites and monitor their performance. At the time that network consisted of a whole 30 websites. In 1998 DoubleClick went public and by 2000 revenue leaped to US$500 million.
What else happened in 2000? Yup, the whole web "thing" went all Mr. Creosote (fair warning, that link may not be entirely SFW).
DoubleClick's stock went into freefall, going from $135 to $11, losses peaked at $266 million in 2001. Oh, and at the same time, DoubleClick was being investigated by the FTC over data privacy concerns. In 2005 DoubleClick was acquired by a private equity firm for $1.1 billion. Then in 2007, Microsoft, AOL, Yahoo(!) and Google were all looking to get their hands on DoubleClick. Google eventually won out, for a cool $3.1 billion in cash.
A couple of years later, Google launched DoubleClick Ad Exchange allowing large publishers to sell ad inventory in real time. Then, in 2010, DoubleClick for Publishers was released allowing publishers to sell and manage their own ads.
So, as with the Google Ad Manager rebrand, a lot has changed and Google wanted to unify their publisher products under one umbrella brand. Also, "marketer demand for addressable advertising has moved us to a place where all buying will be programmatic," said Jonathon Bellack, Director of Product Management for publisher ad platforms.
"That's why we broke away from the traditional constraints of 'ad servers' and 'SSPs' to build new programmatic solutions directly into the product we now call Ad Manager — from our programmatic deals framework to features like Optimized Competition that help you maximize yield across reservations, private marketplaces, and the open auction," Bellack wrote.
Now, Google Ad Manager helps publishers monetize all the new channels at their disposal, such as live streams, connected TVs and Accelerated Mobile Pages.
Google Marketing Platform

Where Google Ads and Google Ad Manager cater to advertisers and publishers respectively, Google Marketing Platform is aimed at enterprise advertisers. Google has brought together Analytics 360 and DoubleClick advertiser products under the new Google Marketing Platform brand.
I've already given a summary of DoubleClick's history above, so I won't cover all of that again, but I mention it because some DoubleClick branded products have ended up under the Google Marketing Platform name.
Within Google Marketing Platform, you will find the new Display & Video 360 as well as Google's enterprise display advertising products. Those products under the Google Marketing Platform include DoubleClick Bid Manager (DBM), media planning and reporting tool DoubleClick Campaign Manager, DoubleClick Studio, and data management platform Google Audience Center 360.
On the search side of things, DoubleClick Search became Search Ads 360.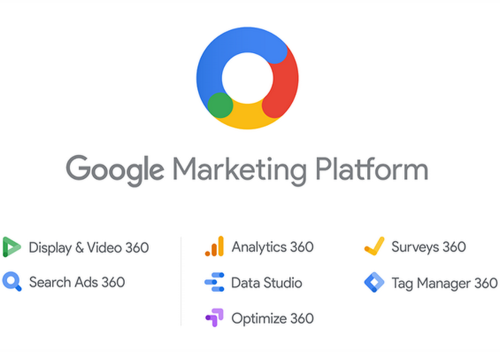 Google was keen to cater to marketing demand with the introduction of Google Marketing Platform. Brad Bender, vice president of display and video advertising at Google wrote in his announcement post:
"In our recent survey of global marketing organizations, we learned that the #1 priority for marketers is to better understand their customers. By offering tools that make it easy to collaborate and share insights, Google Marketing Platform helps achieve this customer-first approach to marketing."
Google often takes a lot of flak for seeming to favor its own products and integrations (and, frankly, that criticism is pretty justifiable). They've been keen to stress that Google Marketing Platform is "designed to offer choice". Their way of showcasing that choice is the Integration Center.
Integration Center not only allows marketers to combine data from Google's own products with (relative) ease, but they've also opened the Integration Center up to third-parties, including measurement solutions and ad exchanges.
In Conclusion
To be honest, personally, the decision to axe the AdWords name absolutely made sense. AdWords had evolved way beyond search and the name was a limiting factor, cognitively speaking. Switching it to Google Ads opens up the scope for the market being able to understand its current and future feature set.
The other two, sure, why not. It certainly makes sense to bundle together products that are relevant to each other and therefore relevant to the same type of customer.
In terms of how NEXD-powered ads work with these newly named products, not much has changed. To be clear, NEXD ads work within the Google Marketing Platform suite, through Display & Video 360. Google Ad Manager users can use NEXD ads in both ad server and exchange environments.
Finally, we are currently in the process of getting NEXD ads certified for use within the Google Ads product as a third-party rich media provider.
Watch this space!