Why advertisers should be taking advantage of a buyer's market
While it may be tempting to hold back ad spend until the Coronavirus crisis has died down, advertisers, particularly those in the FMCG and food retailer sectors, should really consider investing their ad dollars now. With high volumes of inventory available, lower CPMs, and a captive audience stuck at home, Q2 2020 could still prove to be an opportune time for some advertisers to engage with their audiences.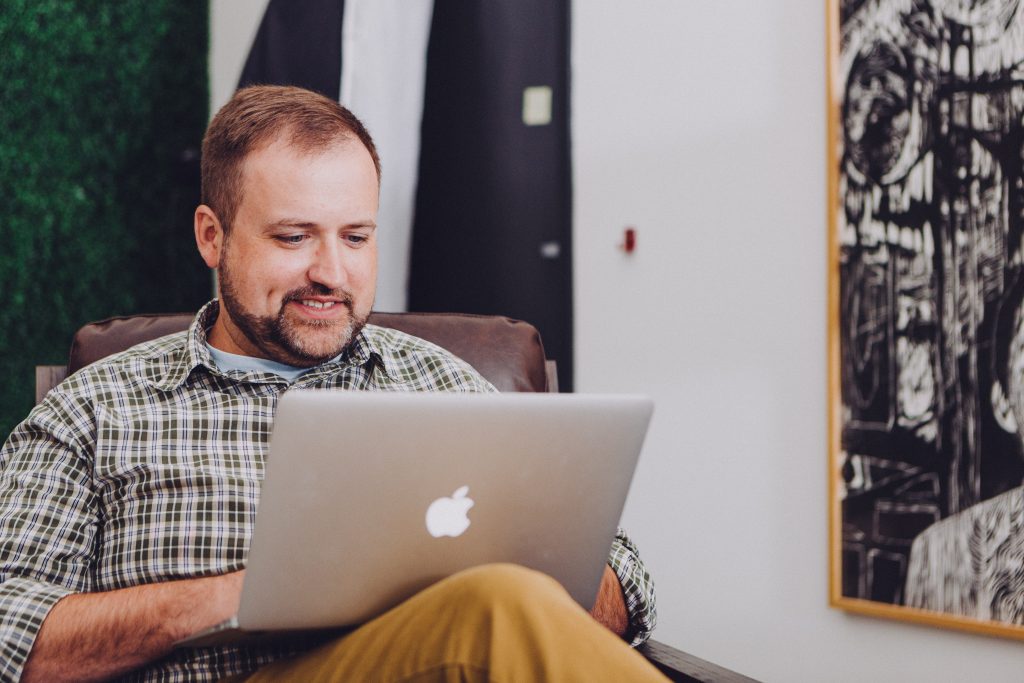 These days it seems you can't avoid the subject of Coronavirus. Whether it's politicians in front of cameras at daily press conferences, health workers advising how to change your daily habits, or emails from brands telling you how they're handling the crisis, there's really no escape.
The adtech industry is no different. Just visit any of the industry's publications and you'll find the specter of Coronavirus has fallen across each and every one of them. But is it all doom and gloom, or should we be looking for a silver lining in all the chaos?
At the start of the year, it was expected that 2020 would be a bumper year for the ad industry. Not only were the Olympics and Euro 2020 due in the summer, there were the US Elections due in the autumn. With so many large sporting and political events taking place in one year, analysts were predicting a growth of 3.9% in global ad spend – up from 2.6% in 2019. 
And then the first reports came out of China that there was a new illness spreading and infecting the population. And then South Korea, Italy, and Iran started to report worryingly high numbers of infections. And then all hell broke loose.
Now the ad spend forecasts look very different, with eMarketer this month lowering their 2020 global ad spend forecast from $712 billion to $691.7 billion. That's not the scary part – they say this is an optimistic forecast as it only really takes into account the effect Coronavirus has had on ad spend in China. According to eMarketer senior analyst Jasmine Enberg, "in the United States, we're not sure what the economic impacts will be."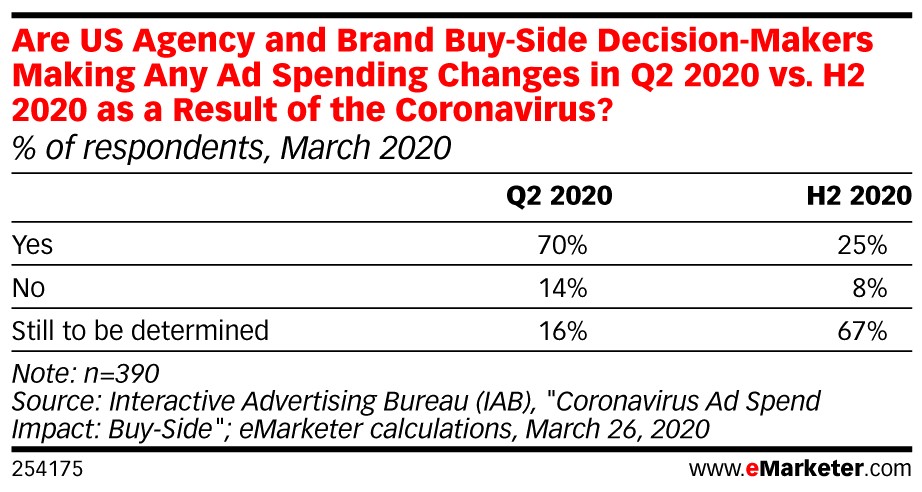 Initial surveys suggest that 70% of advertisers in the US will be modifying their ad spend strategies in some shape or form. 49% are postponing campaigns that were due to run, 48% are shifting budgets among media, and 45% have chosen to pause a campaign that was already running.
For publishers, the outlook certainly doesn't look too rosy as brands pull the plug on their campaigns. Even the big players aren't immune: Google and Facebook are both said to be facing massive losses in ad revenue – more than a $44 billion drop is the estimate from Cowen & Co. analysts.
In a blog post, Facebook's Alex Schultz, VP of Analytics, and Jay Parikh, VP of Engineering explained "We don't monetize many of the services where we're seeing increased engagement, and we've seen a weakening in our ads business in countries taking aggressive actions to reduce the spread of COVID-19."
One man's problem is another man's opportunity

So what does this mean for advertisers? Well, with more and more brands pulling their ad spend, there's more inventory available – and more inventory means lower CPMs. We anecdotally did a quick check on Facebook and noticed a 60% decrease in the CPM campaign forecast compared to what was seen before the crisis.
Yet, while publishers are having a tough time, for some advertisers, particularly in the sectors that are considered "essential services" such as FMCG suppliers, food retailers & work-from-home technology providers, the crisis is providing a huge opportunity.
UK supermarkets have seen record-level sales, with a year-on-year supermarket sales growth of 20.6% in the past four weeks. According to market research firm Kantar, the £10.8B in sales in the past four weeks were even higher than levels seen at Christmas.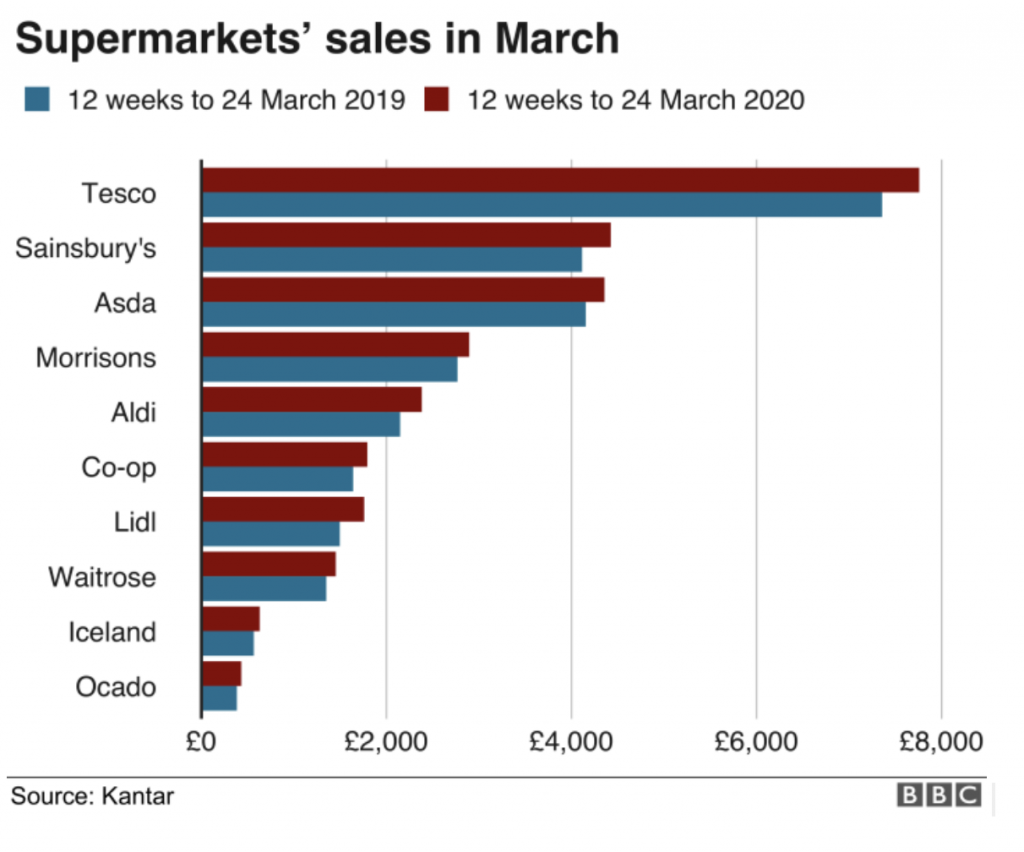 Similarly, Amazon has experienced a huge rise in demand and has hired 100,000 full-time and part-time staff across the US to keep up. According to a blog post from the company, they are "seeing a significant increase in demand, which means our labor needs are unprecedented for this time of year."
Keep in mind though that the opportunity won't last forever. For those advertisers who wait for the crisis to be over, assuming this will be by Q3 2020, analysts are already predicting that ad spend will start to rise back to normal levels.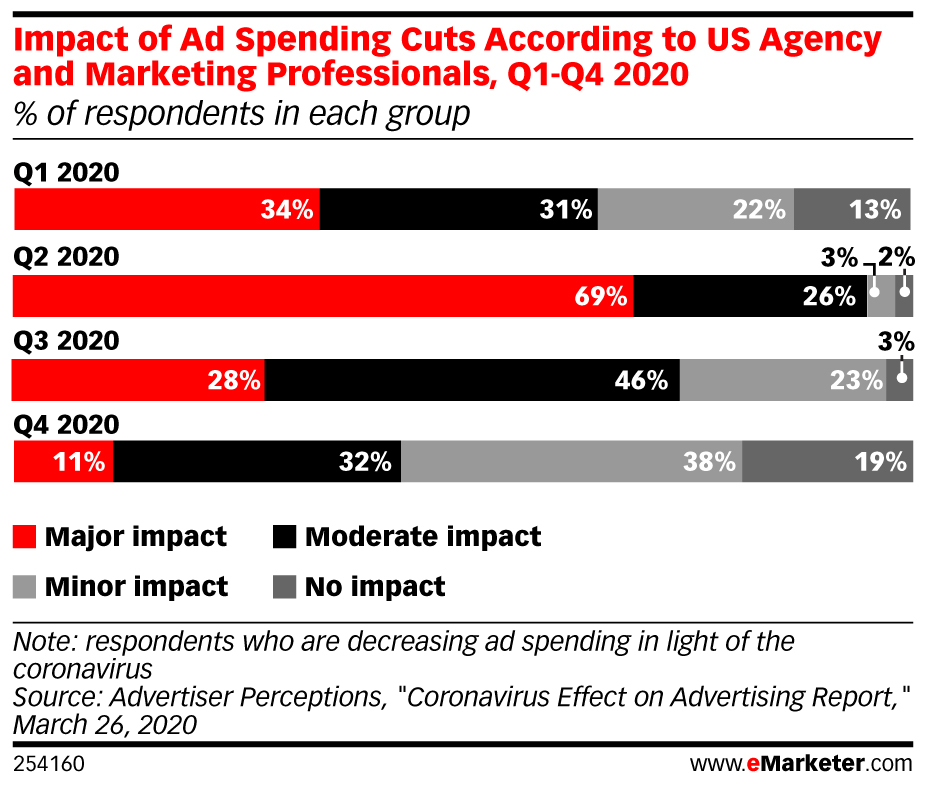 The flip side of the drop in ad spend now is that more advertisers will be vying for inventory later in the year, and with higher demand comes higher pricing. The pent-up demand may even cause higher-than-normal prices once the crisis ends and advertisers look to restart their delayed campaigns.
Taking advantage of the current situation

So for those advertisers brave enough not to push back their ad spend, how should they proceed? As previously mentioned, some sectors which are booming right now. A recent infographic from Pubmatic showed the impact of Coronavirus on different parts of the market. Not surprisingly, travel has taken a tumble, along with sports and science, but advertiser categories such as news, hobbies & interest, and technology & computing have all increased their ad spend.
If you fall into one of the categories in the latter group, assuming your supply chain is unaffected, you should be following suit and increasing your ad spend, particularly in digital. After all, your audience is sitting at home, ready to engage with you. Take, for example, an arts and crafts online retailer. Under normal circumstances, good weather arriving might mean they lower ad spend as people spend less time at home and more time outdoors. But today their target audience is crying out for supplies to help pass the time at home. That's without even mentioning the thousands of desperate parents with children at home who are searching for ways to keep their little ones entertained.
If you've decided to keep running your ad campaigns, how then do you make sure they're successful? Here at Nexd, we believe that the best way to engage your audience is to serve ads that are fun, interactive, and creative. That's why we offer our clients over 50 engaging desktop and mobile ad templates. They're so simple to use – you can even use static assets to create interactive rich media ads, with no need to write a single line of code. Find the ad formats that are the best fit for your brand in our demo gallery.
So before you press pause on your ad campaigns, stand back and consider whether this really is the right decision for your business. Yes, this is a time of uncertainty but for many it could also be a window of opportunity. For advertisers who are able to recognize this and take advantage of the current buyer's market, the rewards could be significant.